A wedding photographer's perfect couple! Laura & Jim's wedding day was relaxed, full of love and laughter,  and was a pleasure to photograph.
We had already got to know each other a little better before their wedding day because I'd photographed them in London on their pre-wedding shoot.
I'm a wedding photographer based in Lincoln, but I do travel around the country (as well as overseas), because I thrive on variety, and I really want to make sure that each client has photography that is relevant and meaningful to them. The pre-wedding shoot is a perfect opportunity for this.
They were married at All Saints Church in Grasby, followed by the reception at the lovely Doddington Hall which is just 8 miles from the heart of Lincoln. I love being a Doddington Hall wedding photographer as it's such a beautiful, friendly wedding venue, and one of the best wedding venues in Lincolnshire.
I asked Laura & Jim a few questions about their day…
Where was your wedding, and why?
We were married in All Saints Church in Grasby, We chose to get married in this church because this was where my (Laura) parents, grandparents, great grandparents and godparents were married. All of these marriages have stood the test of time and are wonderful examples of married life so it seemed apt to carry on the family tradition.
We chose Doddington Hall for so many reasons- the wonderful setting and Coach House- the great food (we love food) and the wonderfully organised and just generally wonderful Justine and her team!
Did you have a theme or style for your wedding?
The theme was a bit of a mix- sort of fifties country wedding with a little bit of theatre and seaside thrown in – all brought together by reams and reams of bunting made by the mother of the groom! We just styled it around things we loved and the nice thing was lots of our friends said the day had Laura and Jim all over it- so it worked!
Where did you get your dress?
I got my beautiful dress from the lovely ladies at Fur Coat No Knickers in Kingly Court off Carnaby Street in London. It was a vintage dress altered and customised to fit me.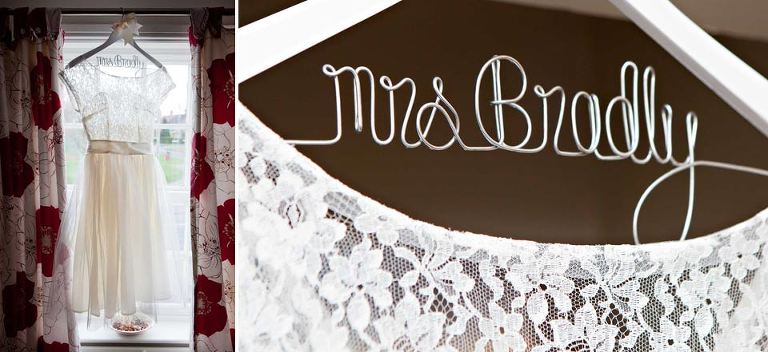 Who did your hair & make-up?
Chris and Lisa from Fusion Hair did everyone's hair on the morning of the wedding and also helped with button holes and nerves and joined in with the general fun and laughter. Chris has known my family for more years than anyone will admit so it was lovely to share the morning preparations with her.
Tina Brocklebank was our makeup artist for the day and she did a fab job – it stayed on all day despite the laughter and tears!
What about your flowers?
Another lovely lady whom we met whilst planning our wedding, Rachel from Catkin Flowers. She knew exactly the style I had in mind and created beautiful spring bouquets and flowers in teapots and china for us at the reception. Just brilliant.


And who made your cake?
Another family affair with fruitcake layers made by mother of the groom and grandmother of the bride. The final two sponge layers were made by the very talented sister of the groom who also decorated it beautifully. She has a home baking business with her friend but we were able to call this a wedding gift!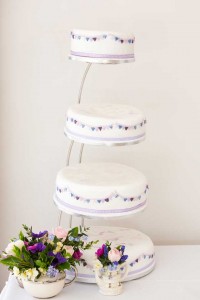 Did you have wedding favours?
Yes, from rock from The Rock People – we love the seaside so it seemed appropriate!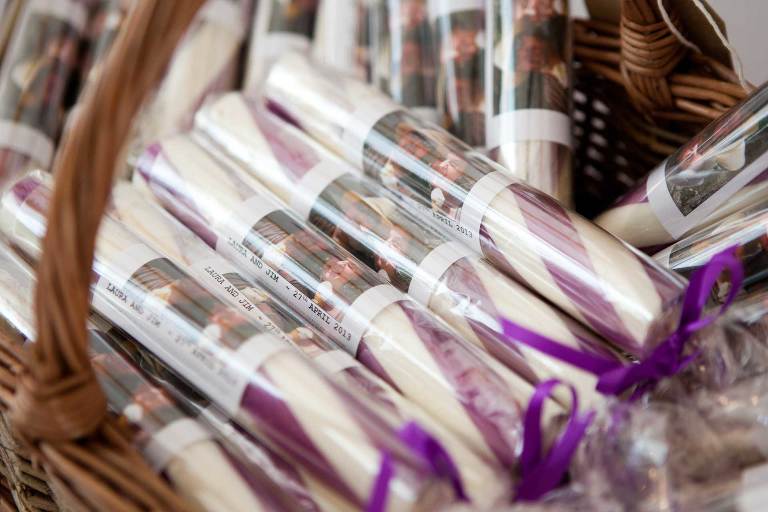 And what about your invitations & stationery?
We used Elinor Rose Vintage Stationery for the invitations and orders of service, and we made our own place cards from luggage tags and a little printing set!
What is your most memorable moment from your wedding day?
The wedding ceremony and seeing each other for the first time in the church. Just about held back the tears though- both of us that is 🙂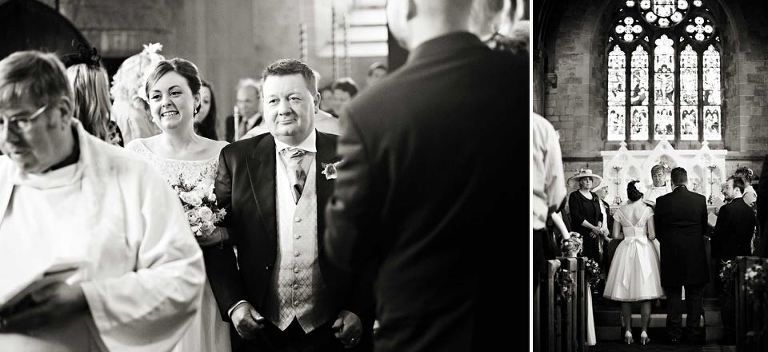 Do  you have a favourite photograph – why?
There are too many to choose! We love the pics of us at Doddington especially outside the front of the house. We look so relaxed and happy but also beautiful photos!

Do you have any comments about Natural Expressions Photography?
We were so impressed with Patrick from the first meeting, and we loved how his photographs really captured the essence of the wedding days he photographed.
As well as beautiful pictures of brides and grooms his work showed all the emotions, the tears and laughter of family and guests.
We also found Patrick to be very personable and easy to chat to. On our pre-wedding shoot he put us both totally at ease and filled us with confidence that the pictures for the big day would be wonderful and they were! Also friends and family commented how lovely Patrick was! My Mum and Dad are already thinking we should book him again for a family photo shoot 🙂
The photos of our day are just fab, showing the story of the day and capturing those little moments we will want to treasure forever.
Where was your honeymoon?
California- road trip starting and ending in San Francisco taking in whale watching in Monterey, Highway 1,  and wine tasting in Sonoma- all powered by a red mustang convertible. Can we go back please?
Anything else you would like to add?
Just a big thank you!
And here are some more photos from Laura & Jim's wedding day.
If you would like to speak to me about photographing you wedding day, especially as a Doddington Hall Wedding Photographer, please call me on 01522 528810 / 07818 436706. Thanks very much!
Please follow and like us: