Sarah & Daniel were married at Bethel Church near Mansfield – a beautiful red double decker bus made it easy for their guests to get to the wedding ceremony, and back to the reception at Doddington Hall. Lots of photos to post here, with some words from Sarah & Daniel:
Tell us about your dress?
My dress was designed and made by Caroline Chamberline (www.carolinechamberlain.co.uk).  She is an outstanding and incredibly patient dressmaker.  She captured exactly what I wanted, something classic with a vintage feel.  I just loved the lace.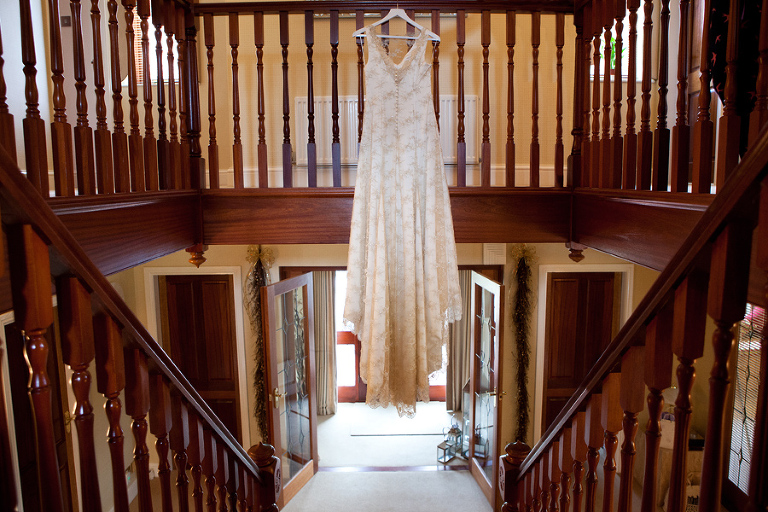 What about your shoes, and any accessories?
I couldn't choose between two pairs, so I did the obvious thing…I got both!  One pair was from Russell and Bromley and were very comfortable and the others were incredibly girly and full of sparkle – I just couldn't resist!
Daniel bought me a beautiful Swarovski crystal bracelet which was my 'something new'. I wore a diamond watch, ring and earrings belonging to a very special friend who sadly passed away a few years ago.  Attached to my bouquet was a locket containing a photograph of my grandparents who were unfortunately unable to attend the wedding.

Who helped you with your hair & make up?
One of my maids of honour and very close childhood friends, Faith Wibberley, did my hair and makeup.  I wanted to feel comfortable and relaxed – and that is exactly how she helped me feel.


Where did you find your florist?
Our flowers were from Catkin flowers (www.catkinflowers.co.uk)  Rachel grows her own flowers at Doddington Hall so we couldn't think of anyone better to decorate our venue! She was so lovely to work with and captured the soft, eclectic country feel we were going for.  Rachel used herbs in the bouquets as well as a range of English roses, lavender, gypsophila, grasses and honey suckle. Each table had a different arrangement and we loved the range of cut glass vases and containers she used to display them.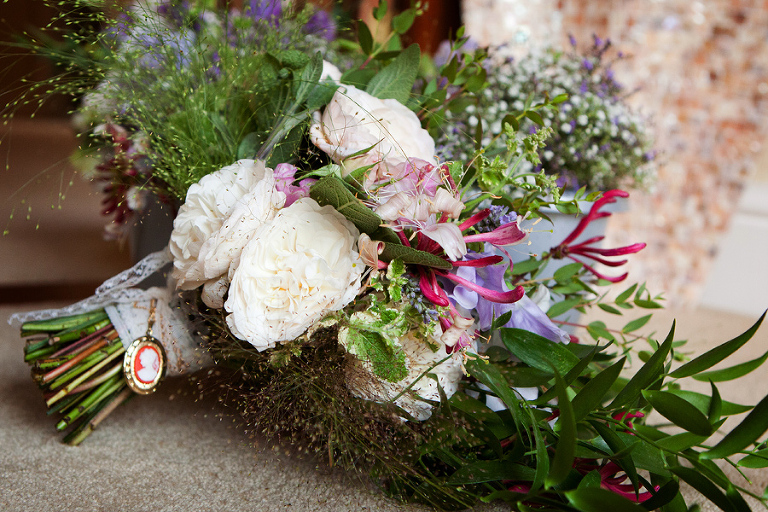 Did you have a theme for your wedding?
We wanted a wedding that would be very relaxed and fun for our guests but we also wanted a 'classy country' feel too. We chose Doddington Hall (www.doddingtonhall.com) because it was so typically English and we felt our American guests would get a good feel for the English countryside and a bit of history too.  We wanted to give them an 'English' experience and felt the venue and the transportation would definitely do this.  Everyone loved the double decker bus (www.vintagevehiclehire.co.uk), and Holly Farm and the Brewhouse at Doddington Hall provided beautiful country cottage accommodation for some of our guests.  The bales of hay for extra seating in the garden, the beautiful flowers grown at the hall and the hand drawn birds for table names provided the finishing touches and really added to our country theme.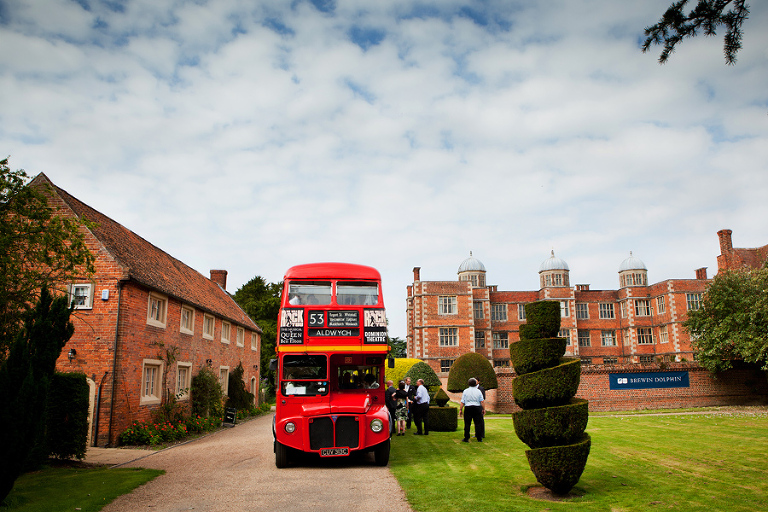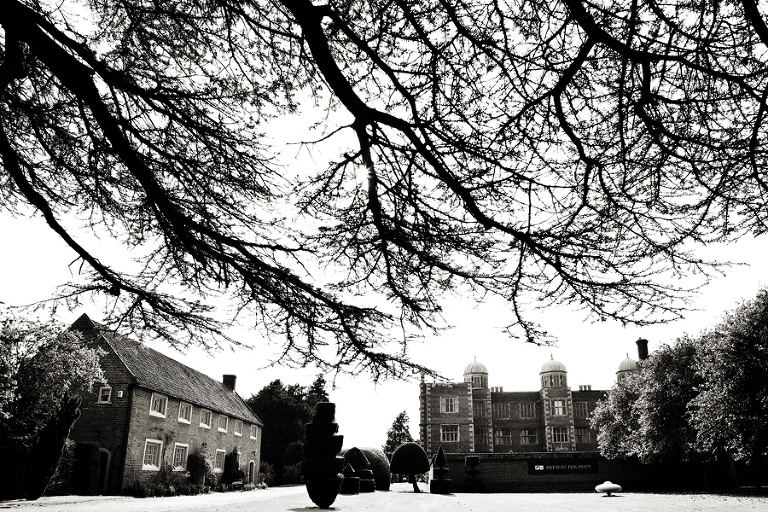 Where was your wedding ceremony?
We were married at Bethel Church in Mansfield Woodhouse. Not only is this the church we attend but it is linked with the church Sarah attended as a child in America. We knew it would be a very personal ceremony and we were not disappointed!  We then held our reception at Doddington Hall in Lincoln.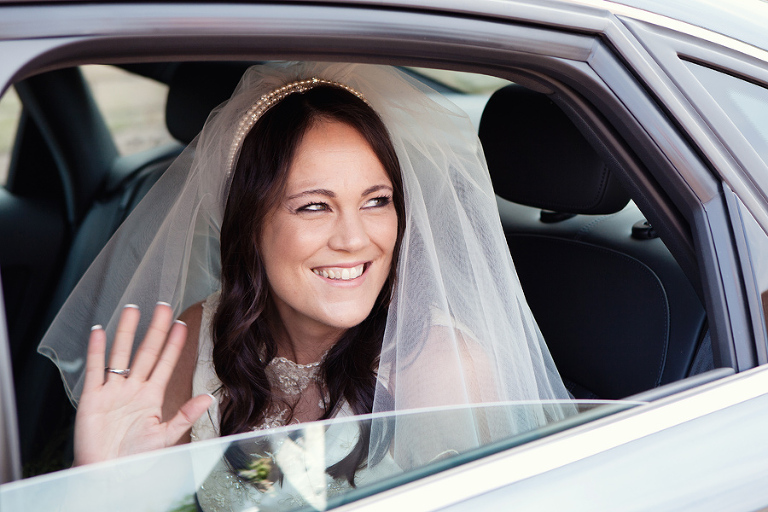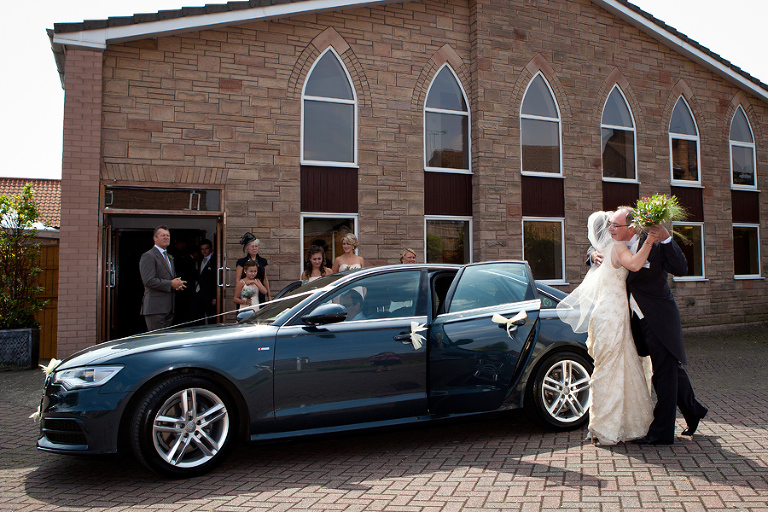 What's your most memorable moment from your wedding day?
Sarah – Although it is incredibly hard to choose I would definitely say that one of the most memorable moments was exchanging our vows at the church….and Daniel's speech was amazing too – I was so proud of him.
Daniel – To pick a most memorable moment is very difficult! I would have to choose either travelling to the church on the red London Routemaster or listening to the choir straight after our vows.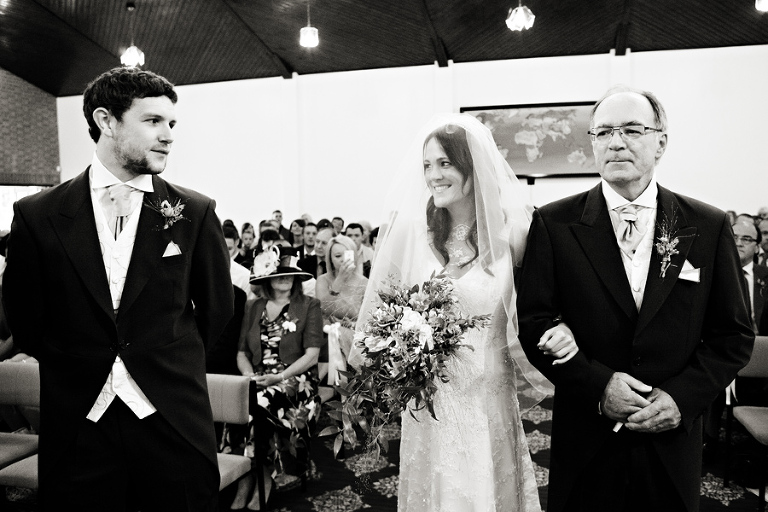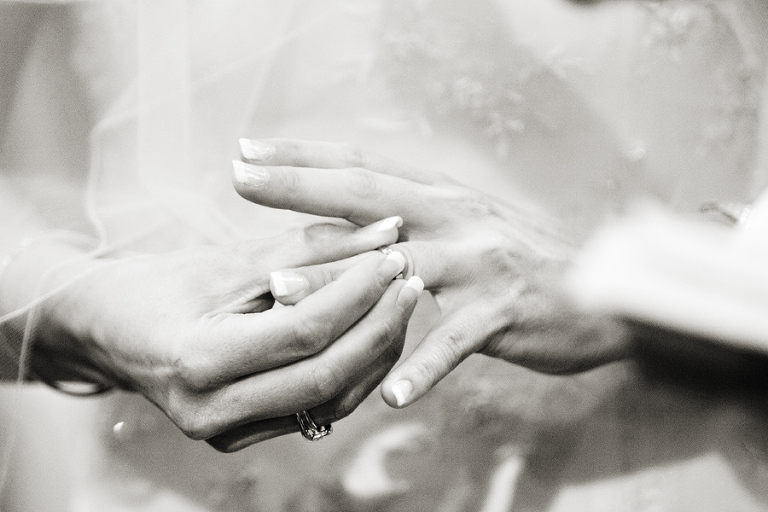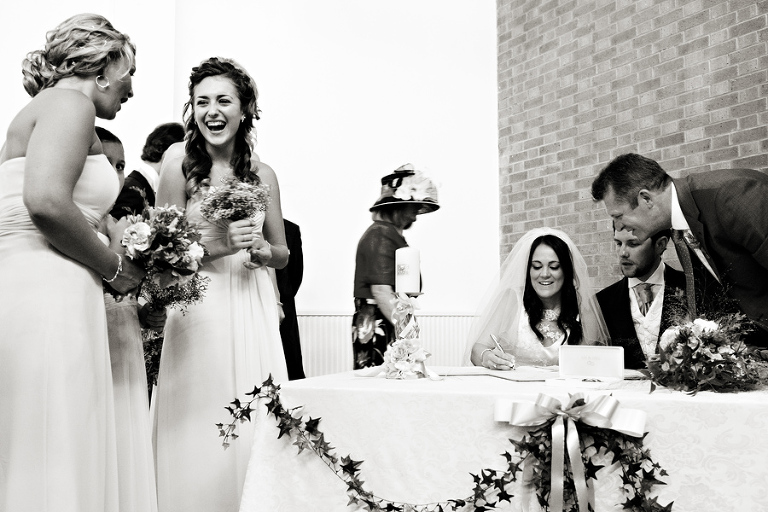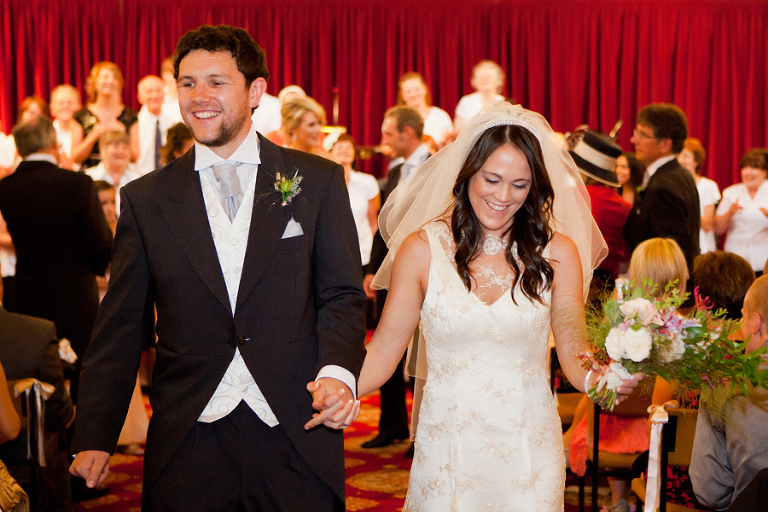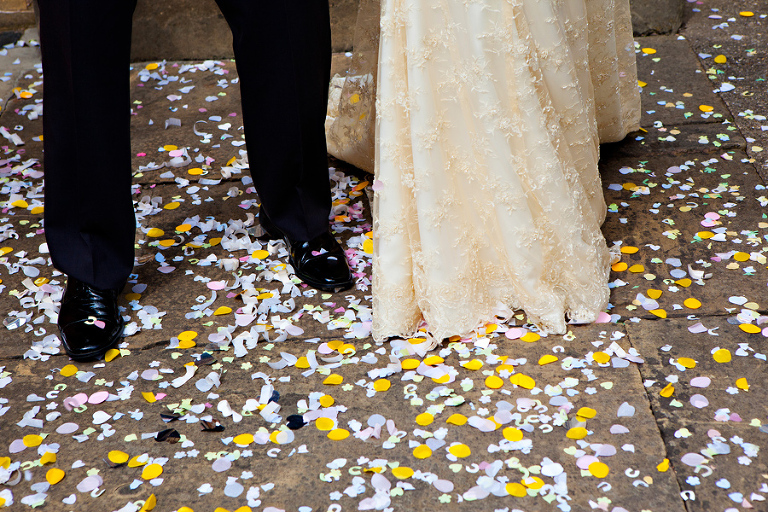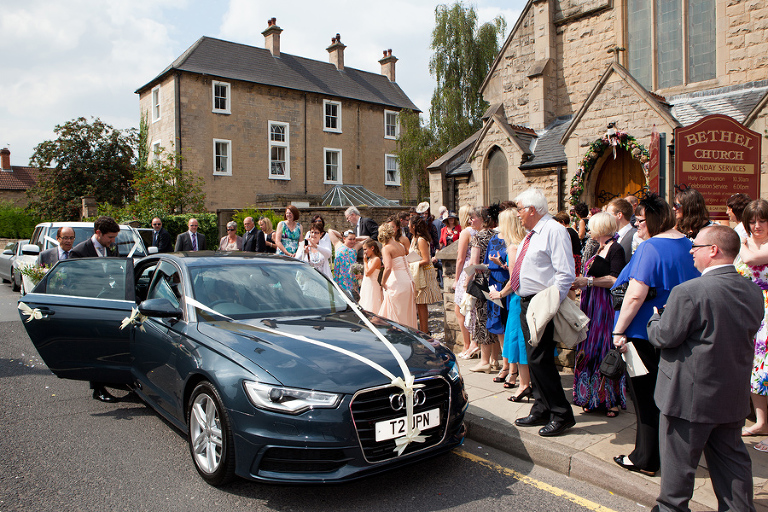 Do you have any favourite photographs from the day?
Sarah – I love the photo of me with Megan and Molly getting ready, it was such a relaxed  morning and they brought so much fun to the day.  My other favourites are of me and Daniel exchanging vows and rings, it really captured the moment.  I thought all of the pictures of the speeches were fantastic too….I think this question is too hard to answer!
Daniel – my favourite picture is me and Sarah sat in the back of the car with the reflection of the church seen on the car. I also love the photos of the reception and during the music as they show our guests having so much fun!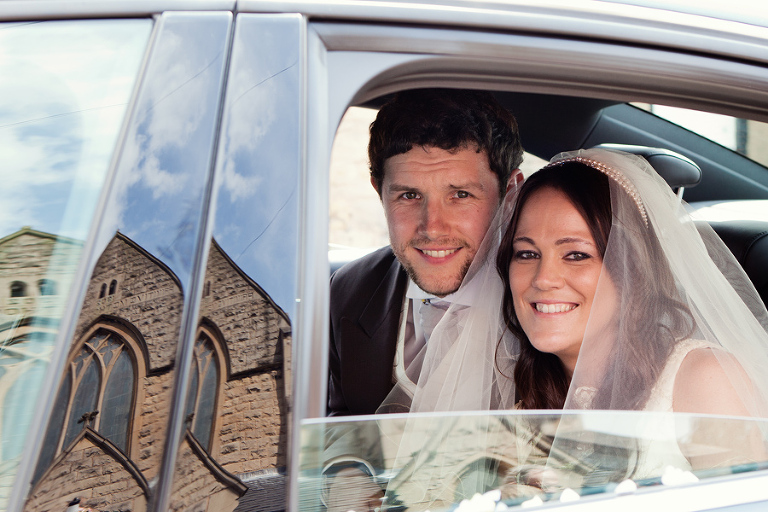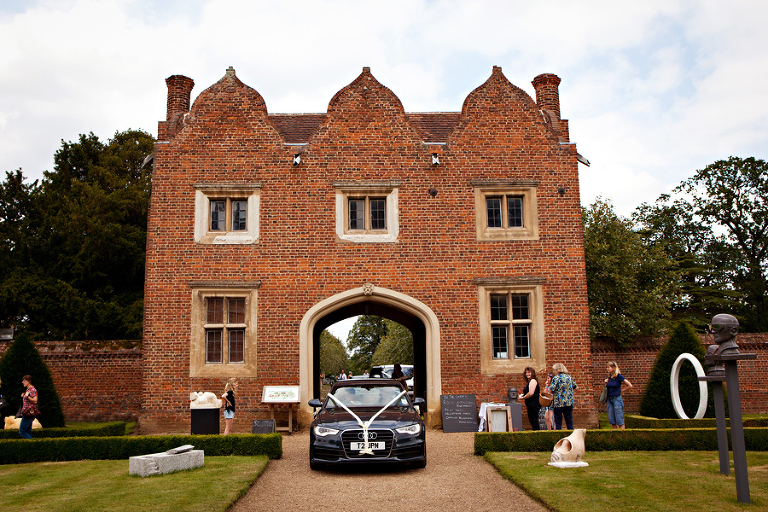 Who were your Grooms men & Bridesmaids, and why did you choose them?
Daniel: Chris Bell and Rick Smart were my best men. Chris is my older brother and I had the honour of being one of his best men last year. I have grown up with Rick, attending pre-school, primary and secondary schools together. We played in the same football teams and have been friends since I can remember. Rufus, Chris' son and therefore my nephew was pageboy. He looked incredibly cute and we have some great photos of him.
Sarah: Faith and Sarah were maids of honour.  Two excellent and lifelong friends…I simply could not imagine having by my side on our big day!  Megan and Molly were bridesmaids – two very special young ladies who have been and will always be such an important part of our life.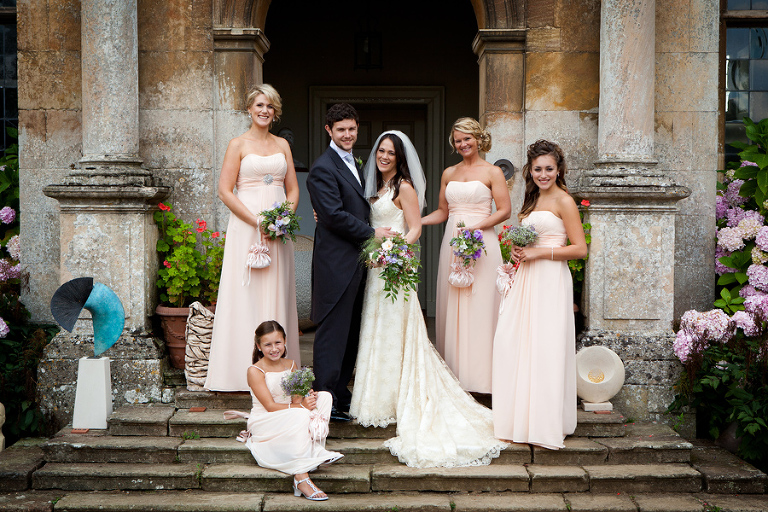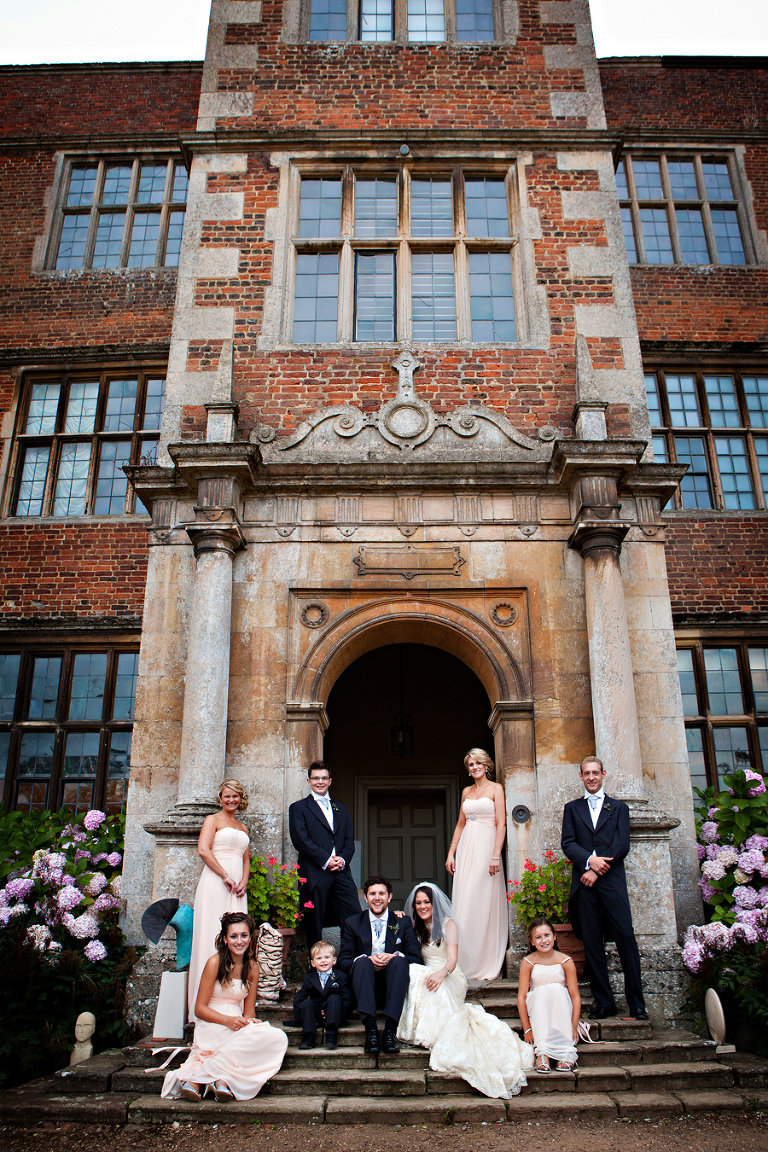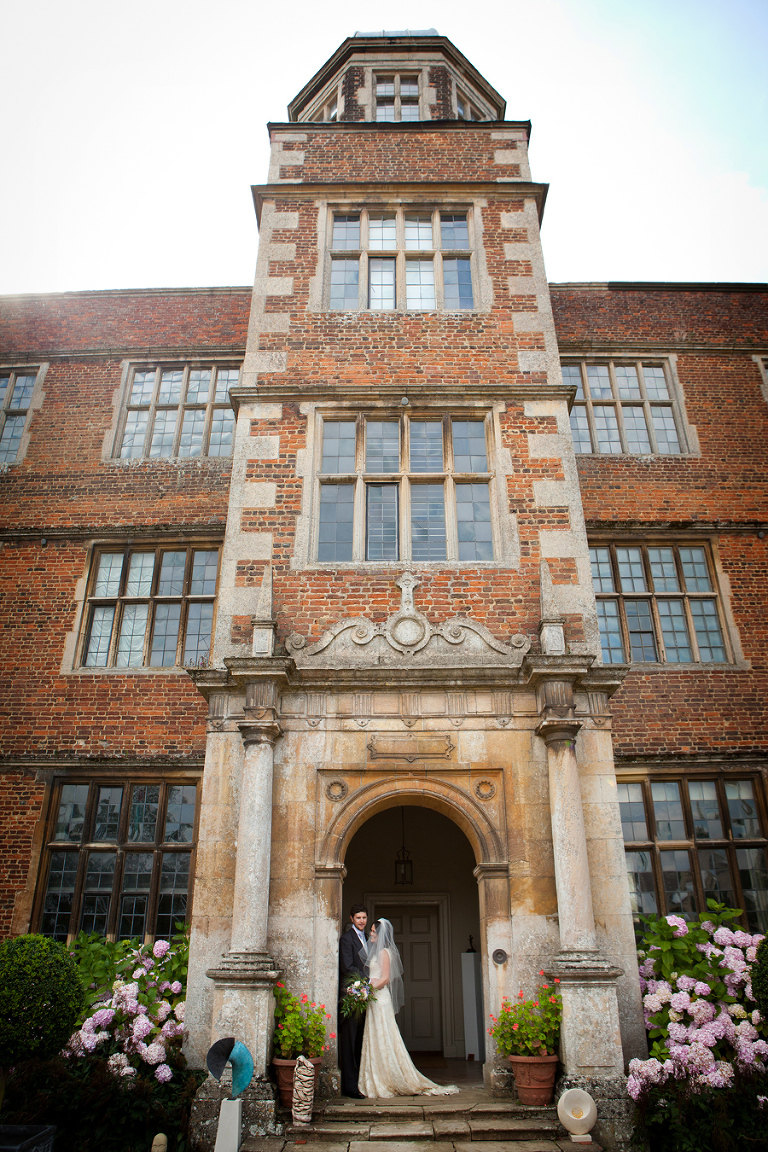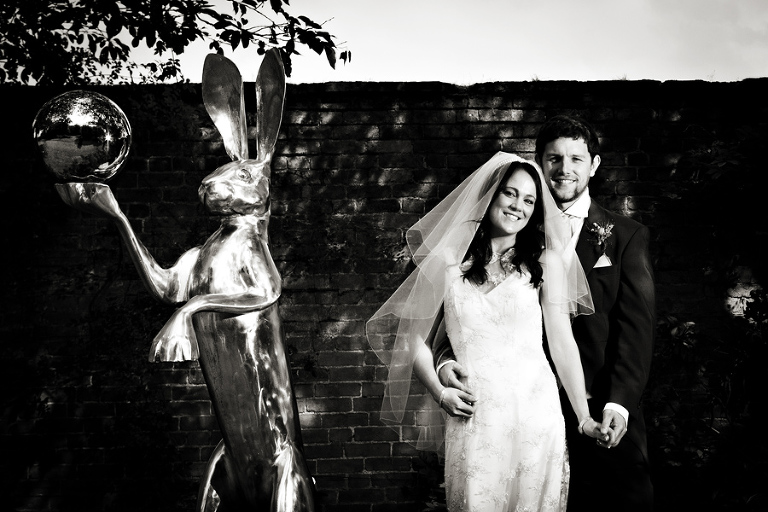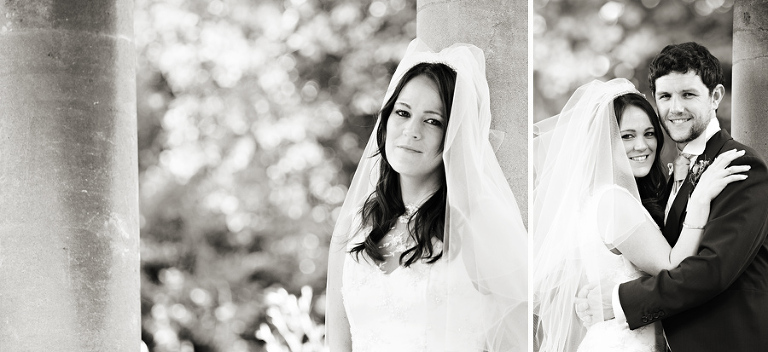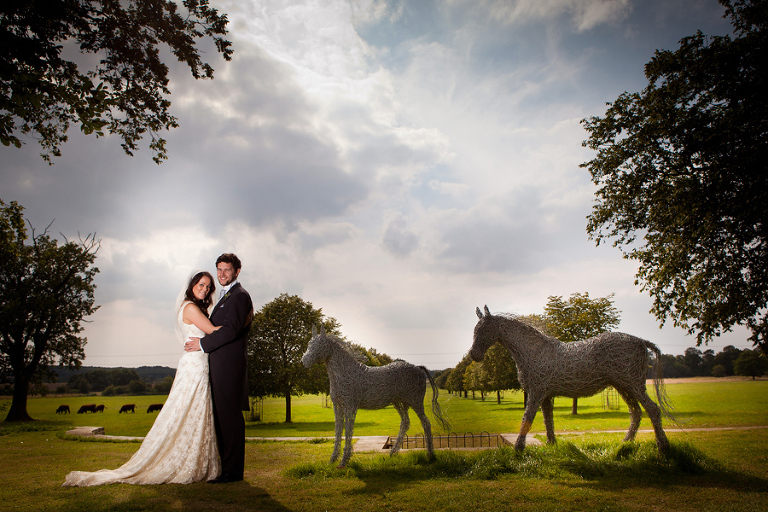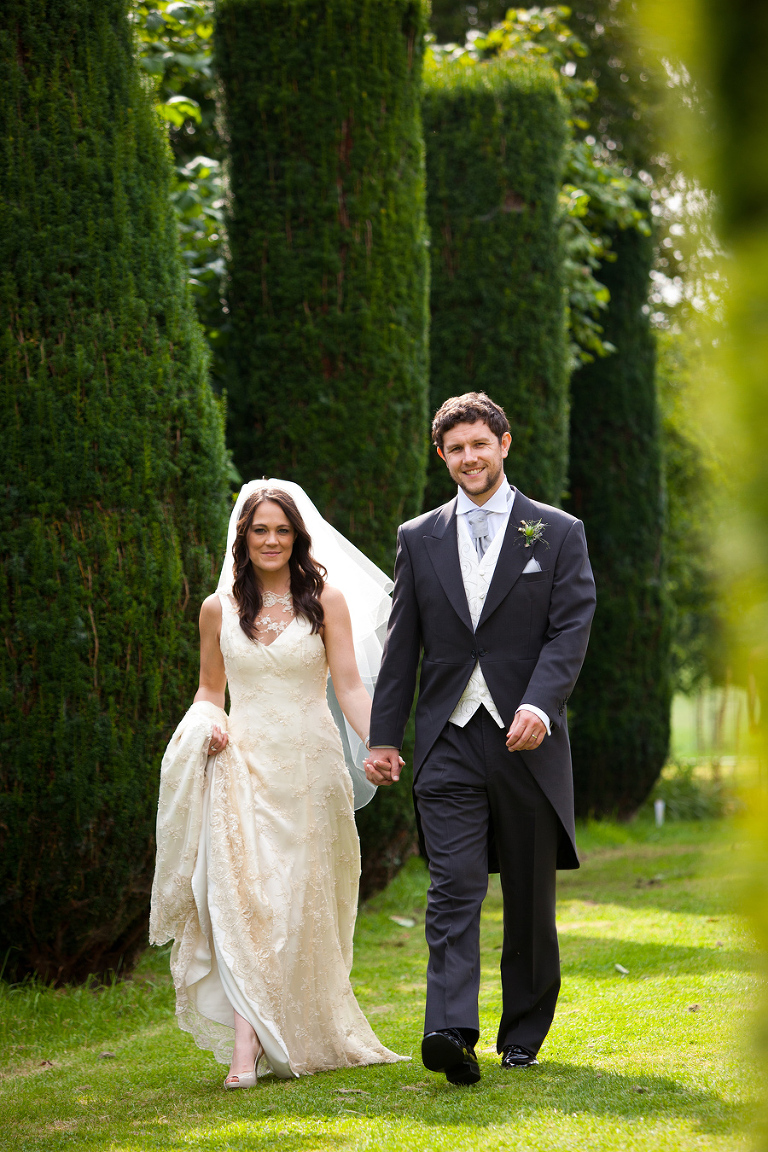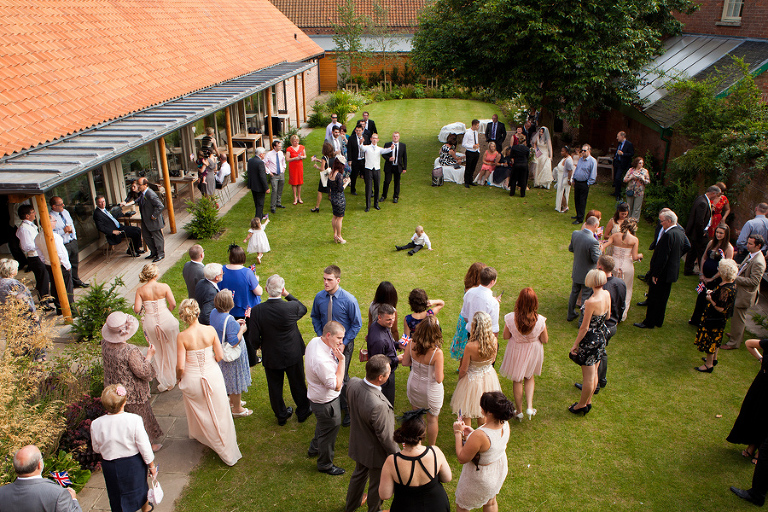 Where did you find your invitations & stationery?
Our invitations and stationery were designed and hand made by my maid of honour Faith Wibberley.  Faith is an illustrator and captured exactly what we wanted, something that was a bit different…we loved the birds and this was a theme we carried through all of our stationary, table names and etc. She also made our table plan and wedding breakfast menu board.


What about your wedding favours?
We wanted favours that were fun.  We saw the idea for using lips and moustaches on sticks in a wedding magazine and thought this would not only make great photos but would also help to 'break the ice' for people sitting on tables where they didn't know each other very well.  As you can see from the photographs they were definitely a hit! We love these photos!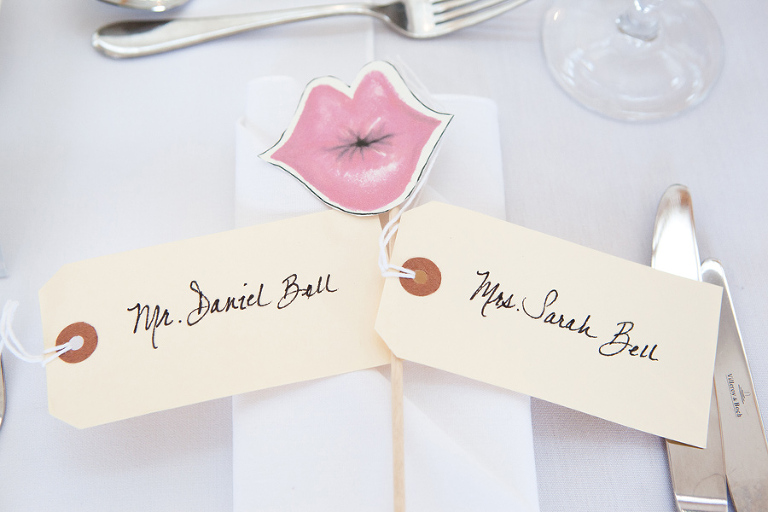 Who made your wedding cake?
Our cake was designed and made by 'Sweet Buns' (www.sweet-buns.co.uk) Jen and Phil Hardy, owners of the company, are very good friends of ours and they did an amazing job in making us a personalised cake…they even incorporated lace from my dress on the bottom layer!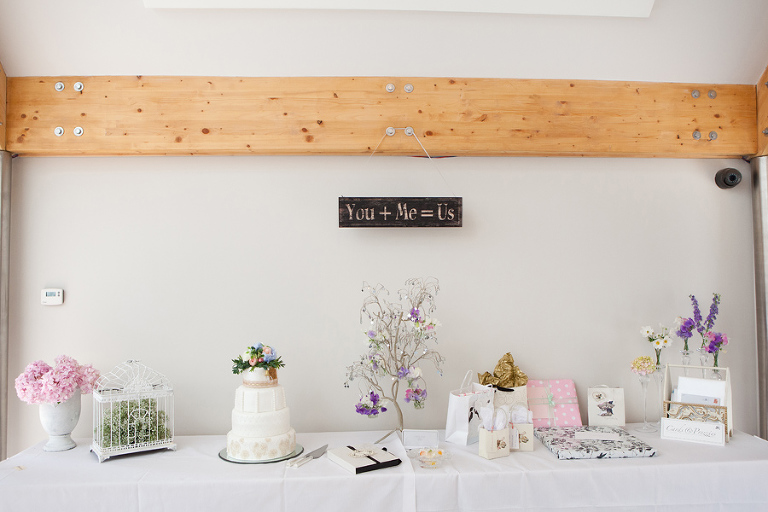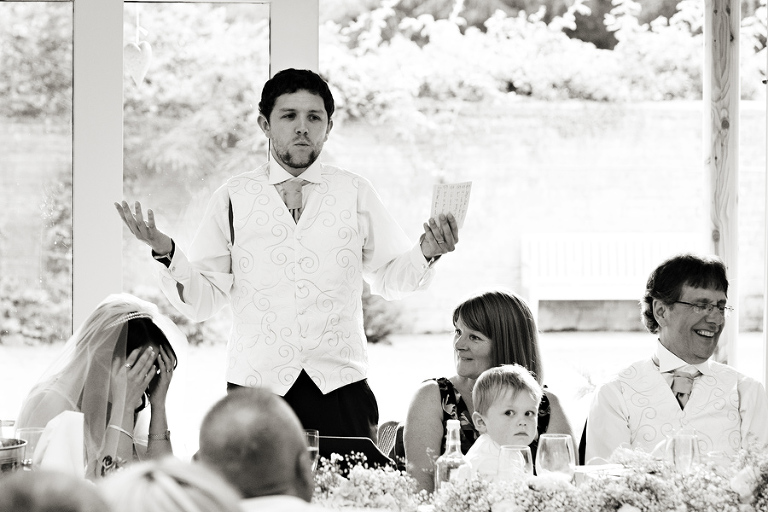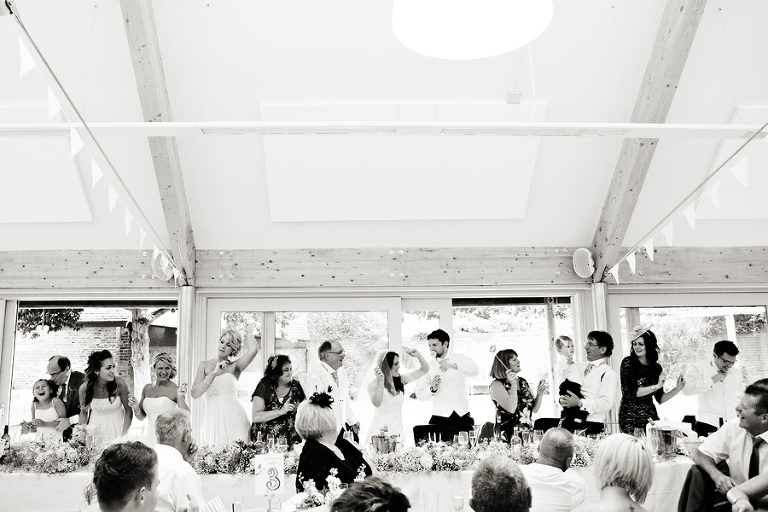 Any comments about Natural Expressions Photography?
We loved working with Patrick.  He made everyone feel so relaxed on the day and so many of our guests commented on how friendly and professional he was.  Patrick went above and beyond to make sure we got amazing photographs that captured the 'story' of our day and we couldn't be more pleased with the end result.
We loved the way Patrick captured our guests having fun at our evening reception. The pictures of the band and everyone dancing are fantastic and we really love the photos of everyone dressing up.  It was amazing how he managed to be in so many different places and catch amazing moments.







Where was your honeymoon? 
We had our honeymoon in Cape Cod, USA.  We chose this location because it wasn't far from where Sarah grew up which meant that after our holiday we were able to visit friends and family for a second wedding celebration.  Being from two different countries meant it was difficult for everyone to come and it was so important for us to be able to share in our special celebrations with them too.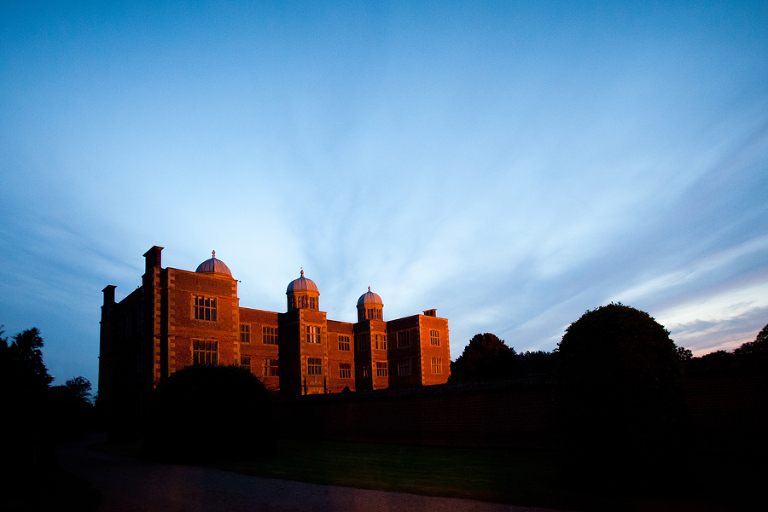 Please follow and like us: