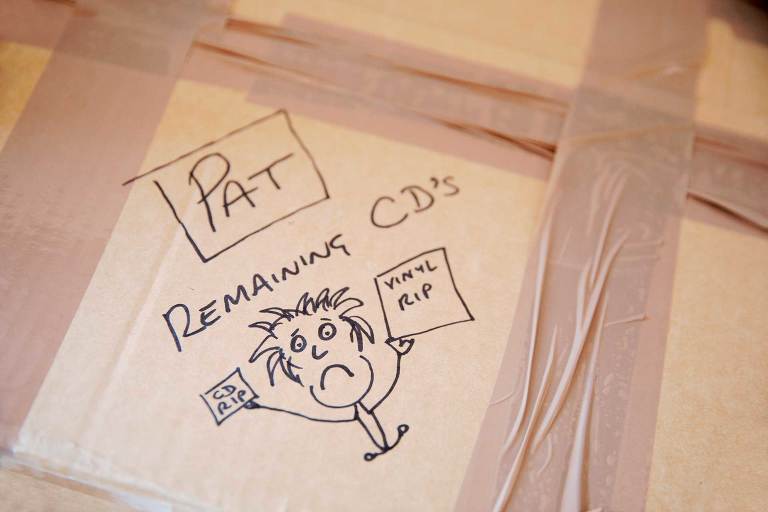 Today is a sad day indeed. It's the day where I've finally taped up the packing box that holds the remains of my CD collection, and it is now sitting in my loft. Those CD's will probably never be used again by myself. I can't quite bring myself to get rid of them though, not yet. Maybe one day my daughters will dig them out and go on an adventurous retro journey, and CD's will have the revival that vinyl has had.
What's this got to do with photography though? And what's it got to do with family photography?
I need to digress for a moment.
Last year I realised that I hadn't played a CD for months. Maybe one or two in my (old) car, but none at home. All of our family listening was digital, mainly using Spotify. So, I gave away my 1990's CD player, amp and speakers and bought a new digital system. Just an amp and some speakers, very compact, great sound quality, perfect!
I love Spotify. It has all the music ever written (almost!) which I can access within seconds. I can make and share playlists, which I spend hours doing – it's similar to making playlist tapes as a teenager, and handing them out to friends! Spotify lets me know about new releases from my favourite artists, it gives me suggestions for other artists, albums, tracks and playlists I might like. It also tells me when my favourite bands are touring. Perfect!
But there is also a side of me that really does not like the digital system at all…there is something missing. Or rather, I have too much choice. It's infinite. I remember when I used to put a vinyl record or CD on and listen to the whole thing. I seem to have lost that in the digital world. I jump around, skipping from artist to artist, track to track, playlist to playlist, discovering this bottomless pit of music.
Is it my age? Or is it the fast paced world we now live in affecting my ability to sit for 30 minutes and simply listen? Have I become more restless and unable to focus on something that I absolutely love? Do I really miss vinyl and CD's or is it just nostalgia kicking in?
I've decided that there is, actually, something missing. There is nothing tangible there and I don't feel comfortable with it. I love the look of albums on a shelf. I love the look of books on a shelf. If I go 100% digital and discard the old world, there will be no need for those shelves. My room will feel empty and soulless.
What about the packaging? I would spend hours looking at vinyl artwork, reading the lyrics, and any other blurb the band had included. Always whilst listening to the music. All of this would add to the music, and give me more of an insight into the band and what they were saying with their music.
I am a visual person and I think most of us are really. I think that's mainly what is missing with digital music. There's nothing to look at, nothing to hold and it just doesn't feel right.
So, back to photography and what I do…
A few years ago when digital photography exploded, a huge percentage of clients (particularly wedding clients) would want digital files only. No album, just the files. I contacted a few of those clients recently to see what they had done with those digital files. Guess what the response was? Overwhelmingly, it was nothing. It was something that they were going to get around to sorting out someday. It won't happen, I guarantee it.
Do they look at those digital files? Not very often was the general response, although phones and tablets have made it easier for us to view photos (rather than having to switch on a laptop or PC). And I think that having photographs on a table is getting closer to the feeling of having your photographs in a physical album.
When I spoke to clients who had chosen albums, wall art or displays, framed desktop prints, etc, the response was totally different. People look at these and love the fact that there is something tangible there. It's a totally different experience looking at beautifully printed photographs in an album as opposed to seeing a digital photograph on an ipad.
Clients who had their photographs in albums said that they had their album on a bookshelf, and would look at it regularly.
We have all of our family photographs in albums, and we look at them all the time. My daughters love picking up the albums and browsing through their childhood memories. We never look at the digital files.
But…I offer digital files with all of my work. Why is that? Well, despite what I've said here, I do like to allow people to make their own decisions about what they would like. I must admit though, I do tend to sing the praises of the physical products because I honestly think they offer something much better.
There are obvious advantages to having the digital files. They are a master copy, and can be duplicated and backed up, in other words be there forever. They can also be shared with family and friends – so it can be a great way of 'spreading the cost' of a portrait session for example.
You can have a selection or all of the photographs on your ipad or phone and look at them whenever and wherever you like.
A huge part of what I do is talking to my clients to make sure they are getting the products that are right for them. Most people tend to order physical products but will have the digital photographs as well.
Digital or physical and tangible? Which one is best? There are pros and cons, advantages and disadvantages to both. But I still there is something very special missing from a digital photograph collection…
Please follow and like us: